A digital tool that helps to improve business processes
Design Thinking
Augmented reality
App mobile
We have created a platform for Safilo which makes simple the process of generating and distributing eyewear samples.
Working together with the sales agents, the main goal was to significantly reduce costs without compromising the result of the sales operations.
Creating value in augmented reality
Advanced technology like augmented reality is already here, in our smartphones and tablets. In addition, it is no longer necessary to download specific apps thanks to Facebook Spark AR, a functionality available on the Facebook ecosystem where users can enjoy augmented reality content while on Facebook and Instagram.
The big question here is: are those tools useful for companies?
Can they generate real value or are they only good to have fun?
The Safilo VirtualEyes project is an excellent example that explains the enormous potential of immersive technologies already available and easy to access.
When we think of applying digital solutions to improve business processes we need to consider the following steps: identifying the goals, understand any possible complications, thinking of the users as the core part of the app and analyse the context.
Safilo Group produce the good, the beautiful, the highest quality
Safilo is a leader in design, production, and distribution of sunglasses, prescription frames and sports glasses. In line with traditional Italian design and its manufacturing expertise dating back to 1878, Safilo transforms design projects into high-quality products.
Safilo is an integrated industrial model capable of overseeing the entire production-distribution chain: research and technological innovation, product design and development, production, marketing, and communication. Safilo distributes in about one hundred thousand selected points of sale all over the world with direct branches in 40 countries – in North America and Latin America, Europe, Middle East, and Africa, Asia-Pacific and China – and a global network of more than 50 partners.
Safilo's portfolio of brands are Carrera, Polaroid, Smith, Safilo, and includes established licensed brands: Dior, Dior Homme, Fendi, Banana Republic, BOSS, David Beckham, Elie Saab, Fossil, Givenchy, Havaianas, HUGO, Jimmy Choo, Juicy Couture, Kate Swords New York, Levi's, Liz Claiborne, Love Moschino, Marc Jacobs, Max Mara, Missoni, M Missoni, Moschino, Pierre Cardin, rag & bone, Rebecca Minkoff, Saks Fifth Avenue, Swatch, and Tommy Hilfiger.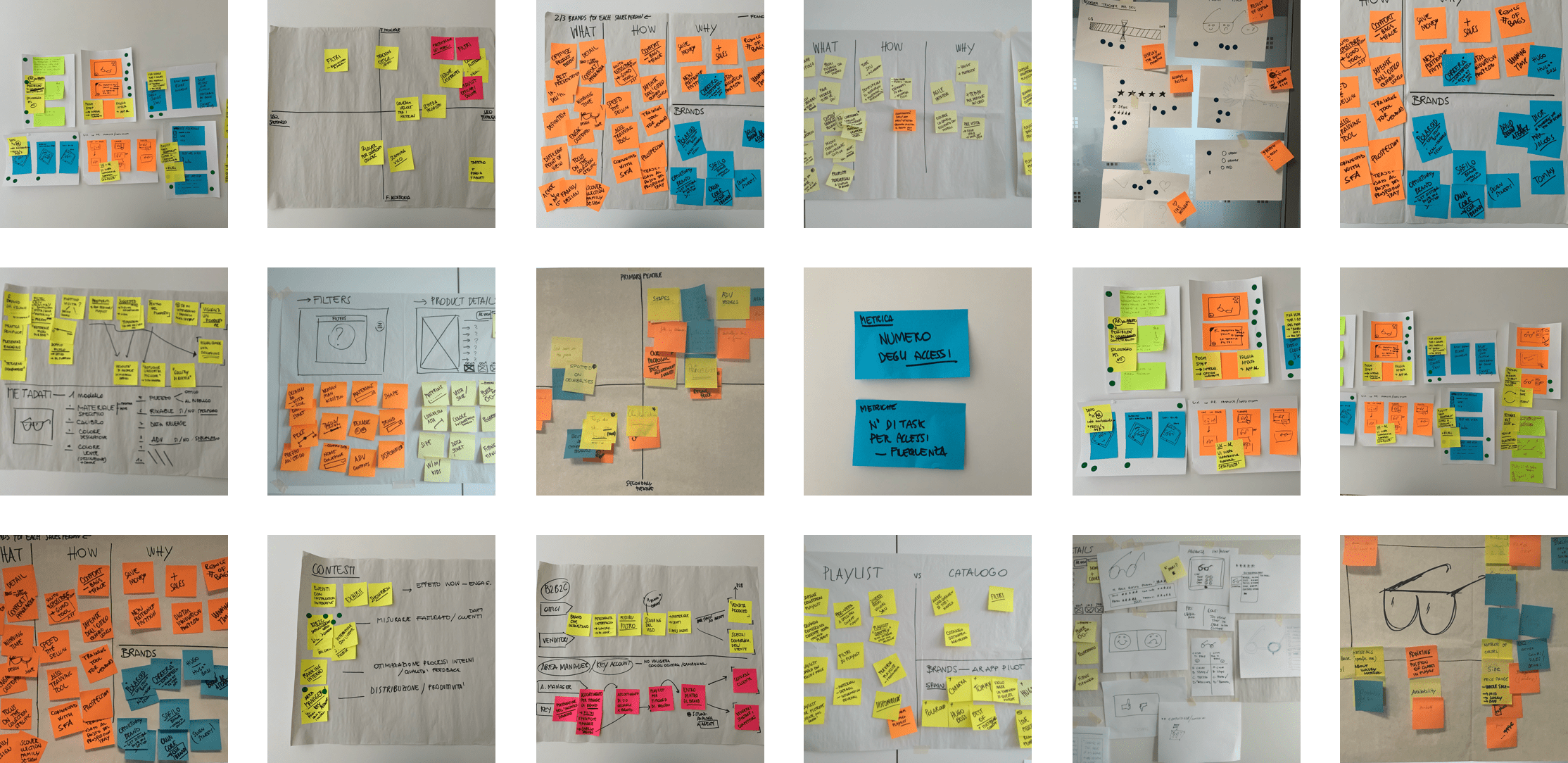 Uqido Deep Dive, a dive into design
We've started the project with the Uqido Deep Dive.
We sat at the table involving Safilo's key decision-makers and sales operators in Design Thinking sessions across Italy, France, and Spain, with the support of sales representatives in the field.
Everything started from a question from the Global Sales Manager: can augmented reality lead to optimizing the production process, making the distribution of all new collections anywhere in the world more efficient?
With the Uqido Deep Dive we could define the primary need: coming up with a solution for Safilo's sellers which was including an entire collection of glasses at hand.
Having identified the primary need, Uqido Deep Dive analysed different solutions to achieve this goal identifying the best one: an app with augmented reality for tablets to be used by the sales representatives to sell and engage with retailers.
An entire collection of glasses, in a pocket
It was, therefore, essential to assess, together with all major agents in Italy, Spain, and France, how this development would impact their current sales process and technical capabilities.
We used mood boards, wireframes, and mockups to quickly create a prototype for future users to test. To understand their needs, their difficulties, and to ensure the appropriate functionalities.
Safilo has hundreds of operating agents all over the world. Each of them needs a sample of several dozens of eyewear models. This leads to high costs for production and distribution. The consequence of this is the financial impact and the production of these samples, which contributes to CO2 emissions for samples that may never end up on sale.
The new digital program, therefore, had to be reliable, easy to use and ready for multiple uses. It was unthinkable to create an application for the samples with a loading delay when agents require instant support for their fast storytelling. In addition, specific characteristics and peculiarities typical of the fashion industry such as the need for digital glasses to be qualitatively identical to the real ones, both in features and colors were vital.
10,000 models are estimated to be produced in a year. Thus it is not possible to imagine a CG Artist creating each one before uploading them onto an app. It would involve months of work for collections that do not last more than a season. The engineering challenge of the pilot project was to create the 3D samples starting from models already in Safilo's possession without compromising on the quality of the products.
"The digital assets provided by Uqido are of extraordinary quality, that's the value of the VirtualEyes platform. It's an exceptional result compared to what's on the market today. From files created for production, we could have easy access to those empowering virtual models. They open the door to adopting more tech solutions, both in the sales network and during the production process."
R&D Manager Safilo
It was vital to have an app that could upload onto any system. It had to be immediate, intuitive, and have a large sample of glasses, photorealistic rendering, and easily usable by a large number of salesmen to be distributed all over the world. In addition, Safilo required the rights to insert or eliminate the models in the app itself.
The aim of this project is to provide a tool to support growth and to enhance the sales process. When a new collection is released, agents all over the world will receive every sample and colour variant in real-time, without waiting for the physical model to arrive, reducing time and environmental impact.
Having identified the needs and the best tool to meet them, the development phase began, involving our UI/UX designers, alongside our developers engaged in converting Safilo models into 3D samples in AR and creating the app infrastructure in which to upload them. Our XR specialists who adapted the models were involved, to convert them for the real environment, as projected, to achieve the most realistic product possible. A mixture of skills for real teamwork.
The development process was on three parallel tracks. An engine that creates the conversion of Safilo models into 3D models. A server infrastructure capable of processing a large number of complex elements. A back-end with an ad-hoc interface designed for Safilo to manage and control content. Finally optimising the sample by analysing the light and environment to create a realistic product.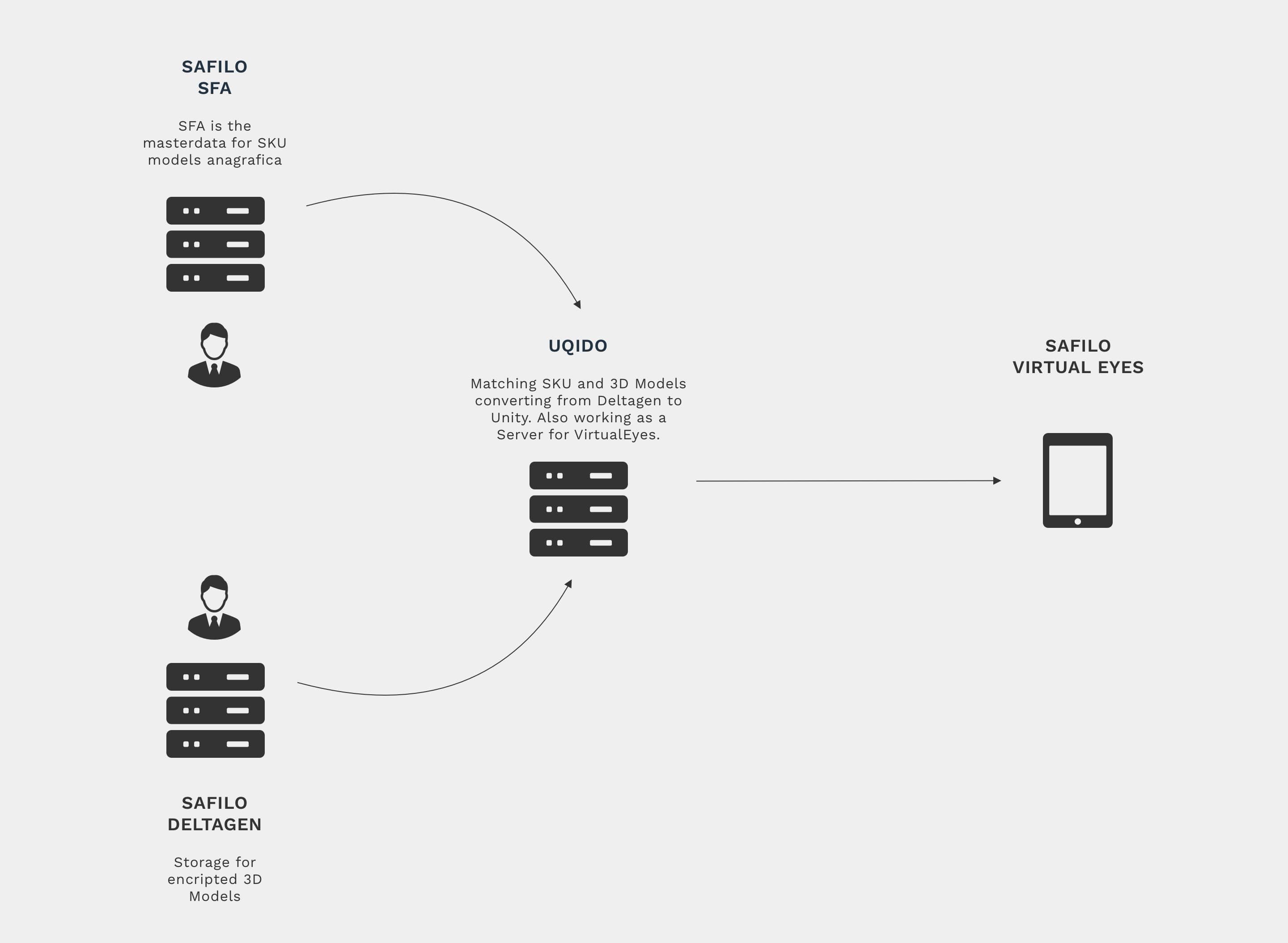 "Developing in a mobile environment, and therefore with limited hardware resources, can be problematic. In fact, we have been looking for the best solution to optimise the use of resources in order to create a stable and robust app that manages a large amount of data efficiently."
Marcello, XR developer.
The sample conversion algorithm works at multiple levels: math conversion, texture simplification, adding effects and maintaining material quality.
The server instantly supports and processes Safilo's entire collections. Bearing in mind that each of these has about 600 models and that each model has an average of 5 SKUs, that is 3,000 references per collection.
The Safilo AR – VirtualEyes platform is licensed to Safilo and is suitable for many other industries.
"Converting models from offline rendering software to a real-time engine such as Unity3D was a major challenge. Together with my colleagues, we were able to develop a complete package to offer a fast, reliable and an automatic conversion service".
Antonio, XR Developer.
This pilot project reveals the development of digital tools targeting the sales and customer experience, as well as exhibiting the samples for further use.
Today, thanks to Uqido, Safilo has an engine that can produce the AR Ready samples of each of its eyewear and SKU (colour variation), which means it has a vast sample portfolio for other business opportunities.
The quality of the final product, made by choosing augmented reality, leaves no doubt about the photorealistic rendering, speed of creation and its viability.
In addition to being an effective tool for agents, this technology is used in showrooms. Through futuristic Virtual Try-On Mirrors, it can display AR products online and enable social media marketing campaigns (Spark AR makes it possible for anyone to try Safilo glasses with their smartphone).
Confidence to look forward
Involving users in the design process is an opportunity to create digital products that are functional without reducing quality.
Technology is key in the formula for success. It supports companies that have skills, market knowledge, and a vision.
Augmented reality has proven to be a tool capable of naturally improving business processes without negative results. It adds value to company products, which can be innumerable, as in the case of Safilo, or with dimensions difficult to demonstrate as in the case of Rield Phasys.
The main advantages are time, competitiveness, savings and considerable reduction of emissions due to the production and transportation of physical products.