IKEA Padova
Software development
Video mapping 3D
UI / UX design
Extended reality
Extended Reality is revolutionizing the retail experience, and IKEA is innovating and winning over its customers. In addition to supporting internal processes within companies, immersive technologies can open up new scenarios and perspectives in product communication, especially in stores.
After losing the exclusive right to sell, physical stores are taking on new commercial roles. The store becomes a place designed to convey certain emotions, thanks to the recognizability of the visuals and through all the experiences offered to the visitor: elements that are able to transform emotions into indelible memories associated with the brand.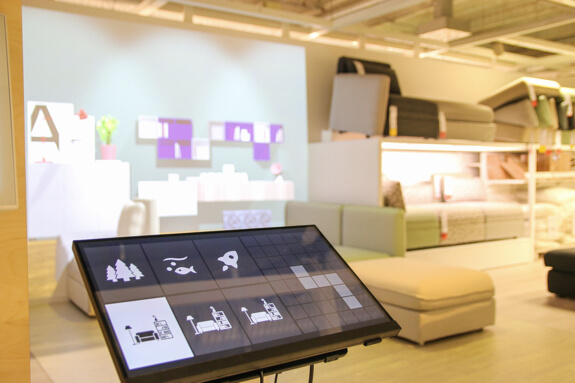 Vallentuna
Entertaining and having fun in the point of sale, attributing new meanings to it to engage consumers and ensure a unique experience.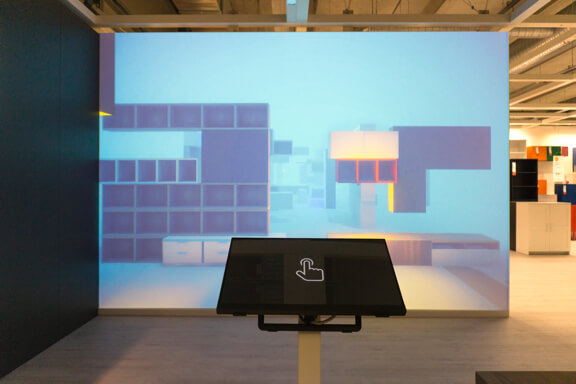 Bestå
The latest frontier of product configuration thanks to innovative, immersive, and easy-to-use tools to improve the shopping experience.
We developed the two installations using different technologies: real-time rendering, video mapping and cropping, gesture recognition, and face detection. Specific programs were dedicated to the development, such as Unity 3D, a graphics engine used in the video game and entertainment industry, Blender and the creation of three-dimensional graphics, and several other image editing programs.
Each of these technologies required specific study by professionals. The overall project required 1,200 hours of R&D to go from kick-off to production release and installation in the point of sale.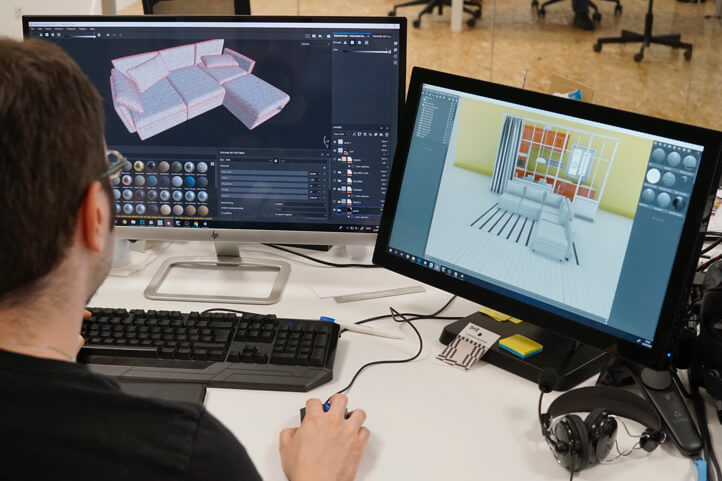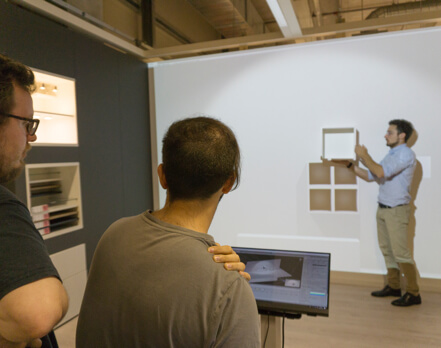 In order to create the videomapping scene of the Vallentuna, we used three 4K laser projectors with interchangeable optics, which modify the scene at the user's command. When recreating anamorphic 3D environments, we paid particular attention to the users' point of view, who must position themselves exactly where the experience offers the best perspective.
The designers at Uqido dedicated their attention precisely to these aspects of UX and UI to make the interaction with the installations pleasant and effective. The intuitive graphics is perfect for a large audience, from children who love to immerse themselves and have fun in fantastic scenarios, to adults, who are surprised by the graphic effects of the recreated environments. The use is designed for a varied audience: interacting with the Vallentuna is as easy as pressing a button.
The lighting is the aspect that required the most attention. It is one of the most important components of a realistic 3D scene reconstruction.
We tested the projectors individually on the installation site and selected the Epson EB-L1000U as they ensure excellent performance, even with suboptimal and variable ambient lighting. The biggest challenge was recreating the colors and textures that vary in real-time on the exposed sofa. Working in an environment that is not utterly dark was a challenge we overcame through extensive experimentation.
Considering the surrounding environment, the result was surprising: the technology used reached the maximum expression of its capabilities.