Remote Assistance
Optimizing costs and time, bringing technical expertise to production departments.
Augmented Reality becomes extremely useful when it comes to remote assistance.
Let's imagine a manufacturing corporate with various production lines: the operators suddenly detect a malfunction or breakdown of one of the machines under their responsibility. This stops the activity, causing delays and slowdowns in the rest of the production processes. Typically, such a situation requires waiting for a specialized technician to come on-site, which is not always possible. Alternatively, you can go for a phone assistance service, provided that no spare parts need to be ordered.
This "classic" assistance entails a series of inefficiencies. We are talking about interruptions of the machines and production lines, while waiting for the expert to actually arrive on-site. The expert's travel period is a cost that has an environmental impact and affects the time it takes to actually identify and order spare parts.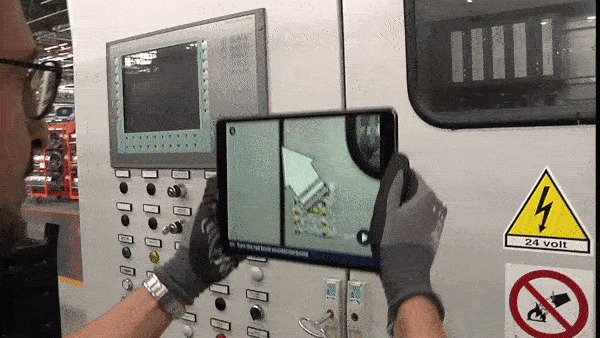 In addition corporate operators don't learn anything about the problem, because it is totally managed by external specialists.
In this context, Augmented Reality is a true game-changer: through AR it is possible to solve critical issues while maintaining the expertise of a specialized technician in very short timeframes, without the need for waiting or traveling. This is the so-called Remote Assistance, an application of the Extended Reality ecosystem, complementary to AR and VR training services.
Do you want to know more?
How does Remote Assistance work?
Through a tablet, a smartphone, or the AR smart glasses, Remote Assistance links on-site operators with an external technician. Using the integrated camera of these devices, the operator can show the machinery to the expert and receive real-time instructions on how to fix it. These instructions appear directly on the operator's display, leaving no room for interpretation.
On the user's side, when a problem arises, the contact with the expert is immediate: in just a few minutes the request for assistance turns into active problem-solving. And in the luckiest cases, the problem is resolved in real-time. Furthermore, thanks to Remote Assistance, the operator that receives assistance gains first-hand experience on different issues, generating valuable know-how destined to grow over time.