A technological system for enhancing and innovating access to the water network.
A Mobile Application that through IoT Technology allows users to consume water responsibly.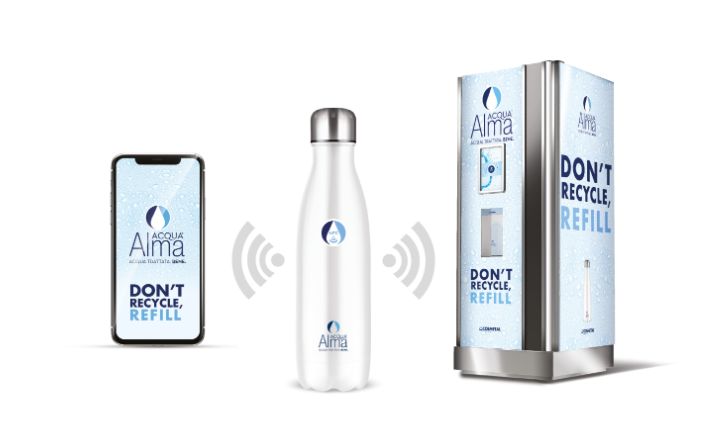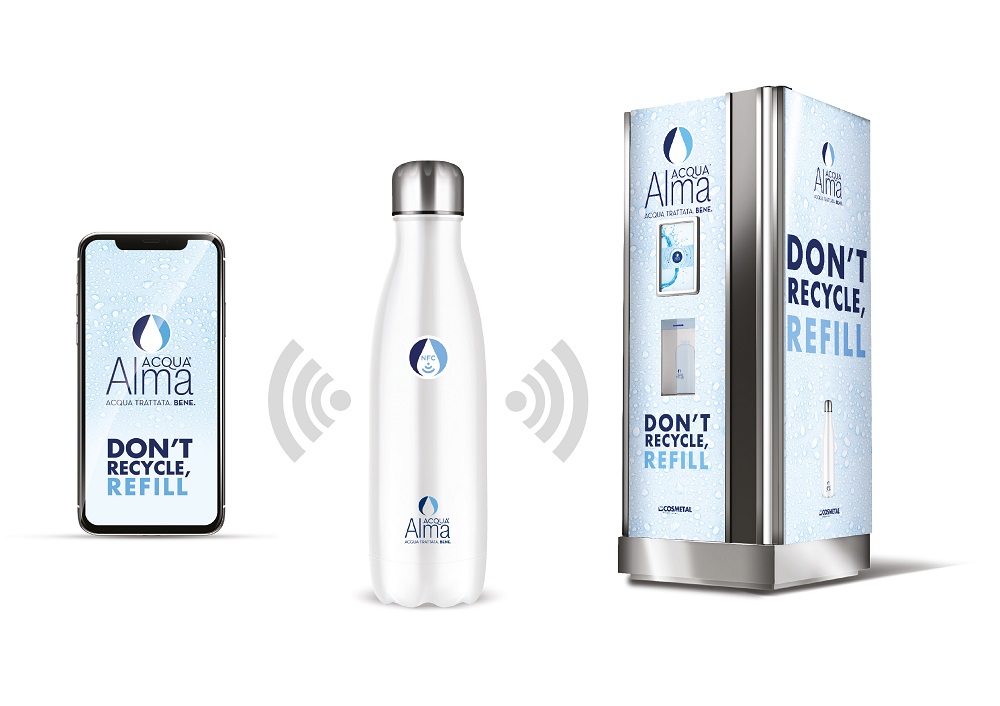 Acqua Alma Point | The digital ecosystem for water consumption
Acqua Alma is a brand of Gruppo Celli dedicated to tap water. The project was born in 2018 from the need for a technology that offers sustainable and safely filtered water. Acqua Alma dispensers provide fresh or room temperature water, natural, sparkling, or flavoured, treated with filtration systems that guarantee its quality and goodness. The project stems from the desire to encourage users to adopt conscious and ecological water consumption.
Recycling is no longer enough, we need alternative solutions that follow the refill trend. According to this premise, Celli Group has used digital technology to address the problem of plastic consumption by developing the Acqua Alma Point ecosystem, consisting of a physical dispenser that can be used with a smart water bottle and an associated Mobile App.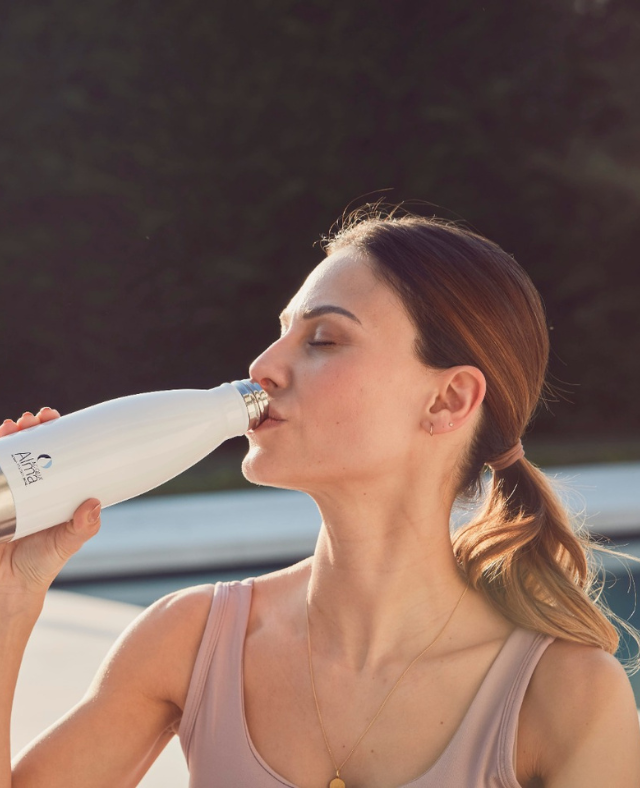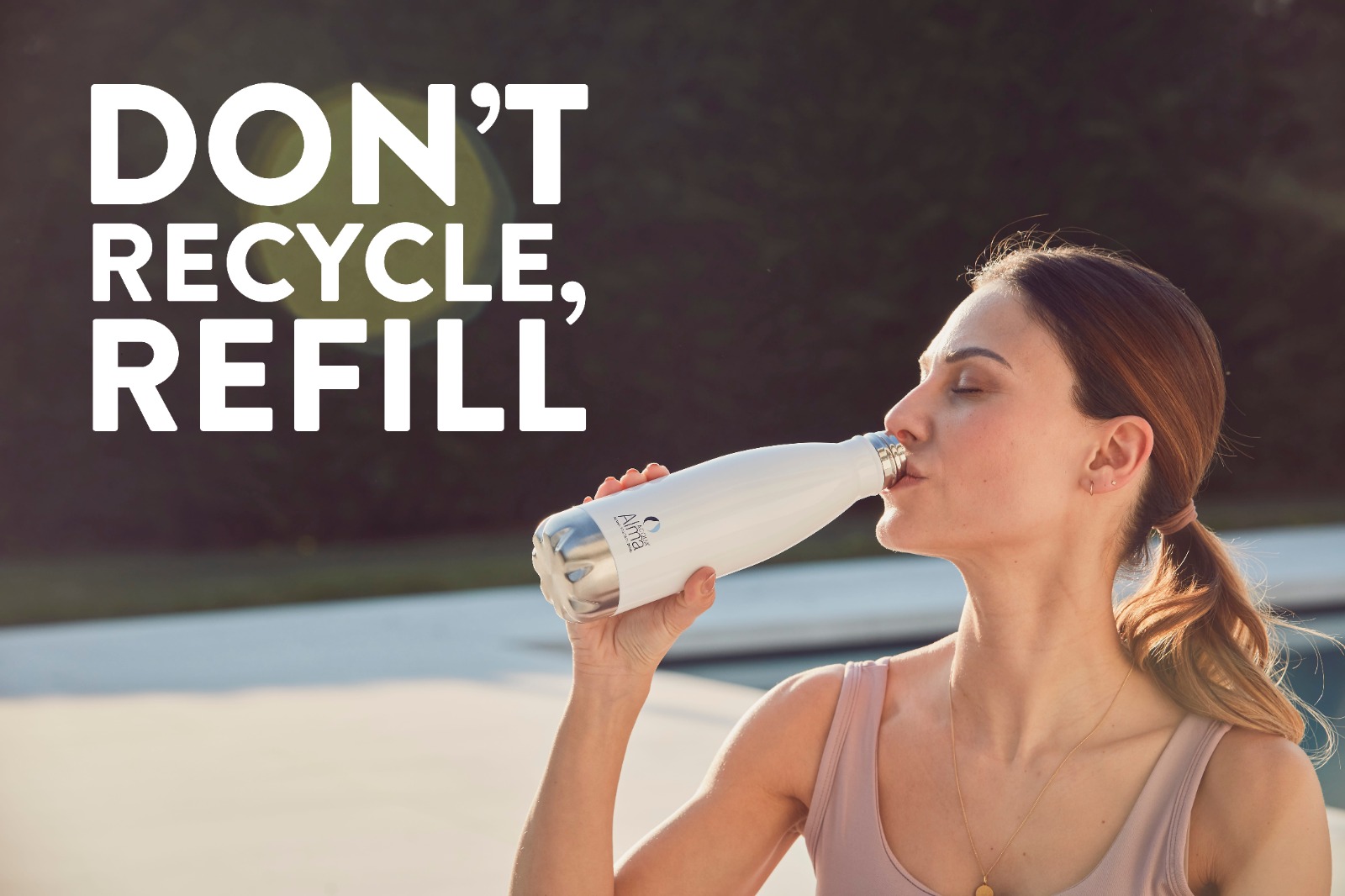 IoT Technology collects and uses data to tailor personalized experiences and services. Acqua Alma Refill demonstrates how digital allows users to take care of their daily wellness.

Do you want to know more?
Project | How does Acqua Alma Refill works?
The Acqua Alma dispenser communicates directly with the smart bottle, which is equipped with an identifying QR code and NFC tag, allowing the recognition of the user and dispensing water according to their preferences. The service can also be used with a personalized water bottle by attaching NFC labels to it.
To use this service, users create an account on the Acqua Alma Refill App, linked to their water bottle. Thanks to IoT technology, the dispenser and app exchange data on the user's consumption habits, recording their preferences, monitoring their hydration levels, and keeping track of their tastes.
The three elements work together to promote the user's well-being, providing not only filtered water but a comprehensive service of personalized care, monitoring, and consumption recommendations.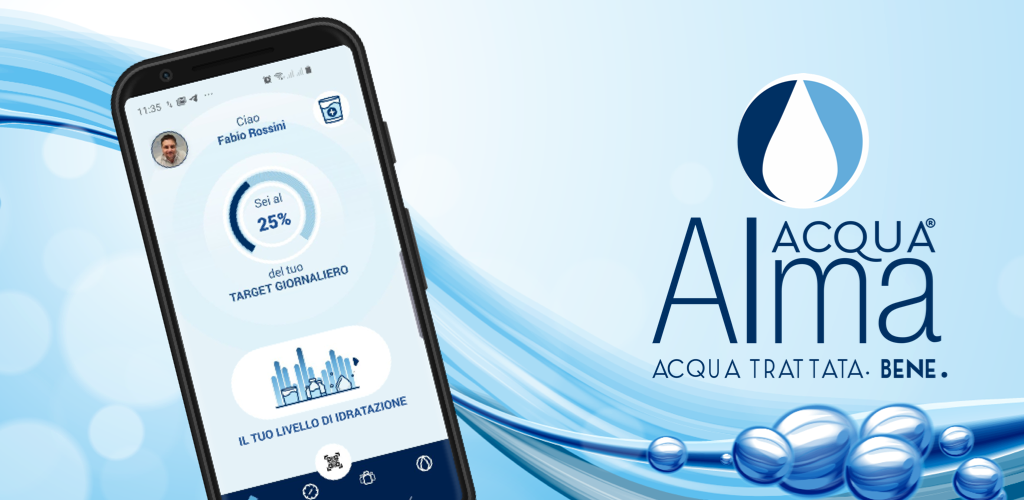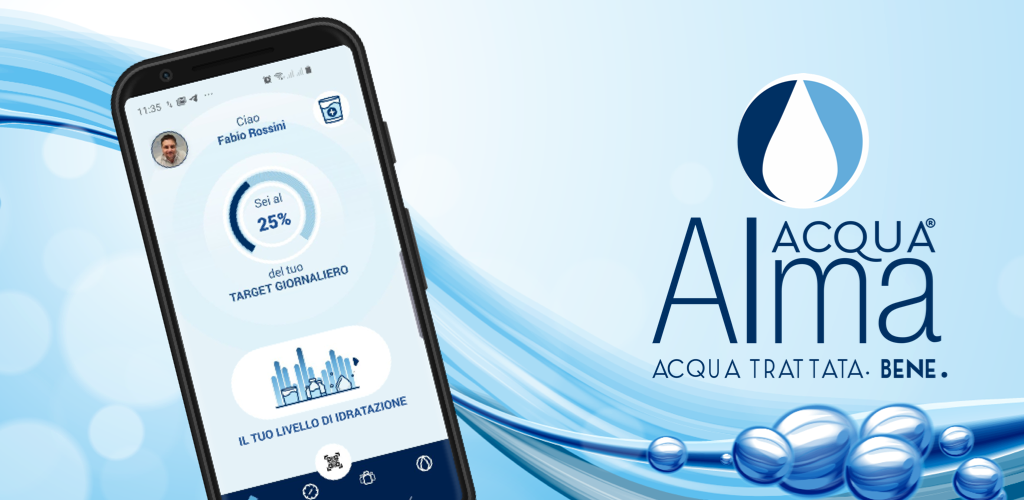 Request | App Opitmization
For Acqua Alma, we implemented a functional and technological assessment aimed at developing a maintenance and test plan.
The first step is to elaborate a functional analysis: this allowed us to understand what is in the app and how it works, creating a thorough test plan. Subsequently, we carried out a technical analysis of the existing codebase, aimed at detecting any security vulnerabilities.
This helped us to identify bugs and critical issues, and also understand where to intervene and with what priority.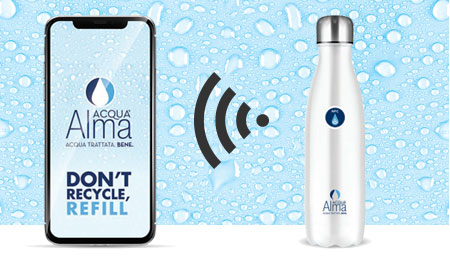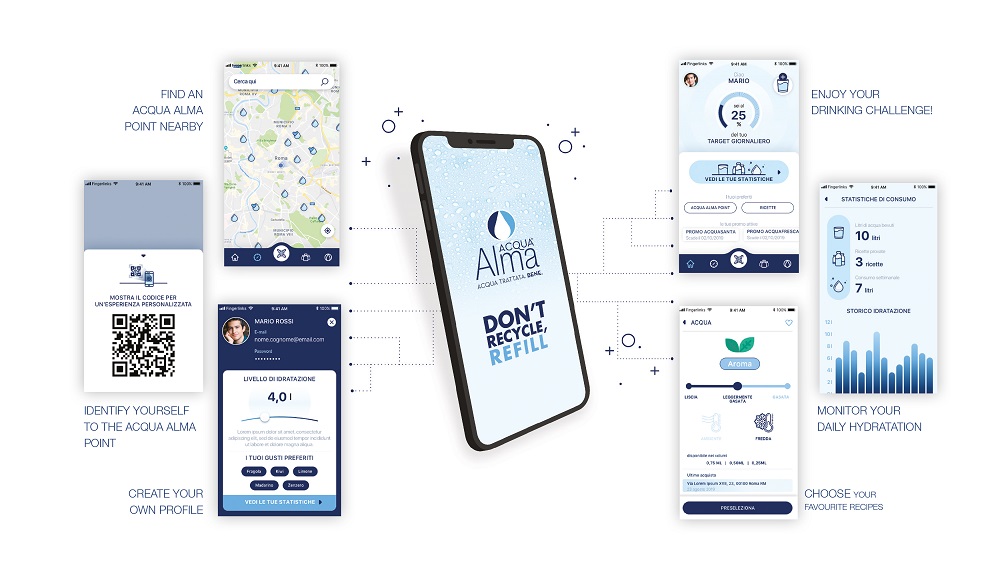 These methodical and precise interventions have made the app compliant with GDPR, solved crippling bugs and improved the overall stability of the software, resulting in a smooth and pleasant user experience. The success of an application also depends on its overall functioning: if it crashes and does not allow users to perform the promised operations, they will quickly abandon it.
When developing a digital product, it is necessary to have a method of verifying and testing its overall functioning. This enables us not only to release high-quality products but also to intervene in third-party projects, to fix and improve unsatisfactory outputs.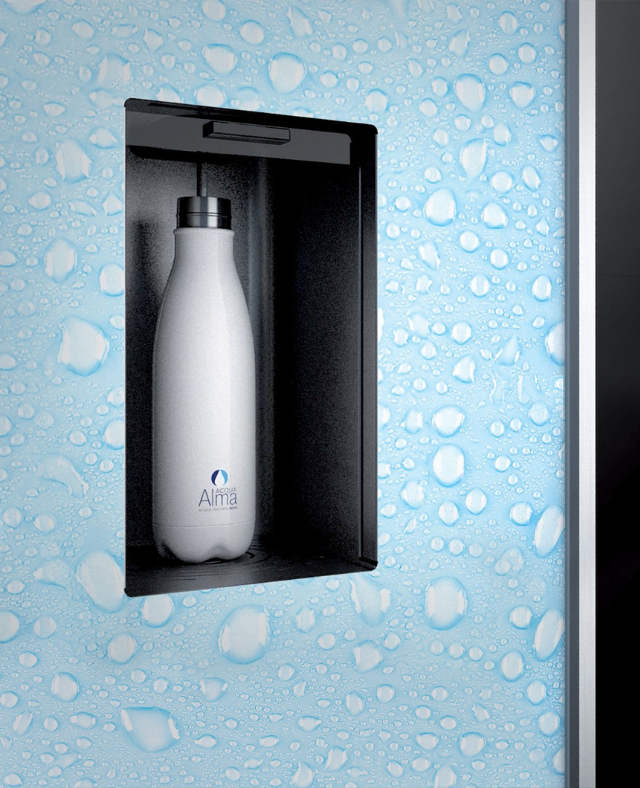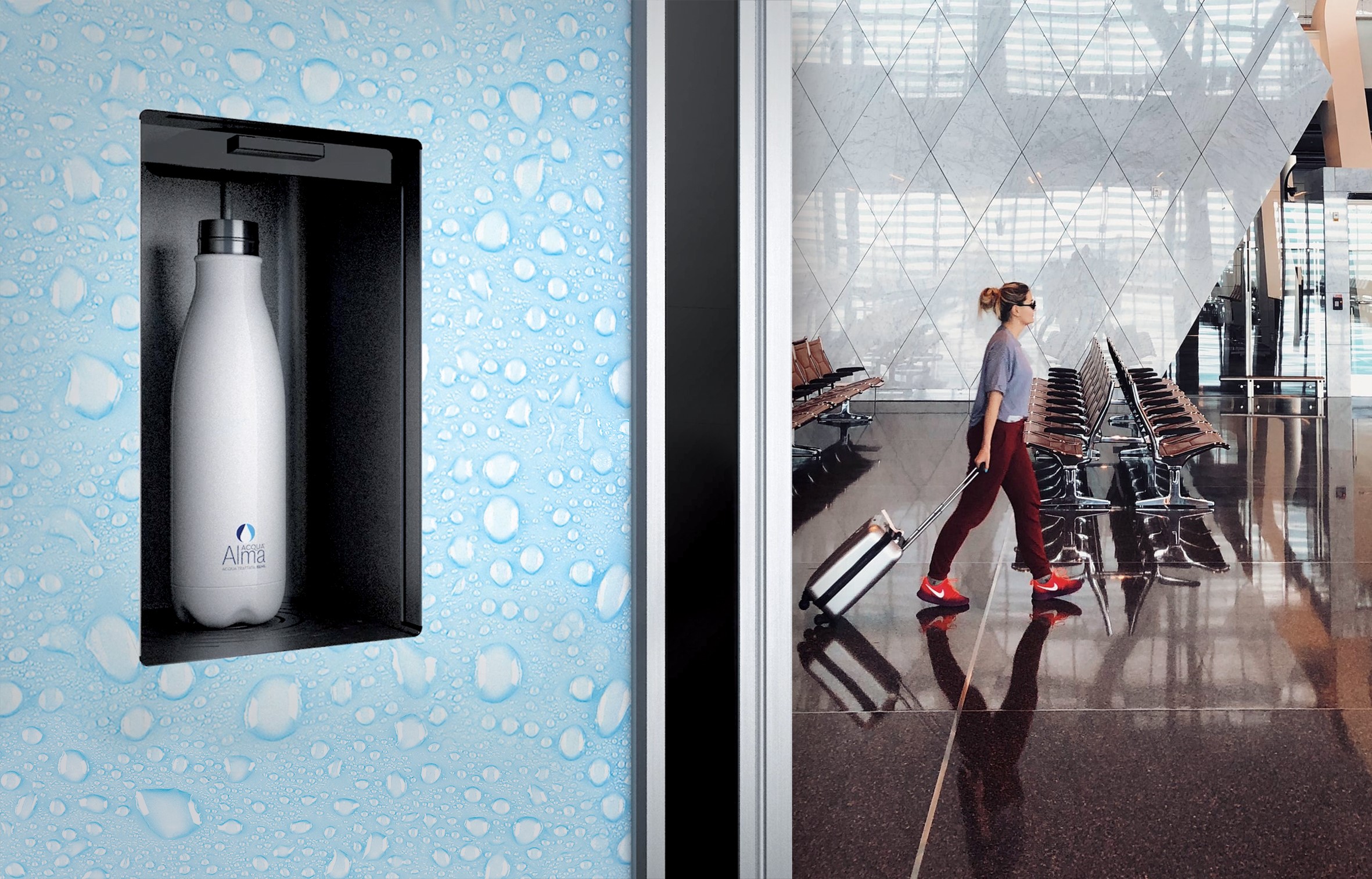 Acqua Alma Point uses IoT technology to provide users with a convenient and tailored consumption service. Whether you're at the office, a trade show, or a shopping centre, filtered water is available for you to fill up your water bottle instead of buying another plastic bottle.
Furthermore, its distinctive feature is the ability to customize the service, thanks to the machine's ability to collect, process, and exchange information with the app. This allows the user not only to drink good water but also to drink according to their preferences and needs.
For example, if you are at the gym and authenticate with your smartwatch – on which there are indications of the performed activities (calories and consumed energies) – the app will suggest which type of water to drink, such as water enriched with magnesium or other substances to support your metabolism.
Do you want to know more about IoT App?